Tag: tag
I've seen this on so many blogs and seeing as I'm changing my nail polish less often due to stubby short nails and my cold has made my skin look awful, this seems like the best time to do this kind of post! :P
A. Age: 24.
B. Bed Size: Double, but I have to share it and it has wooden sticky up bits on each corner that I batter my limbs off daily!
C. Chore you Hate: All of them, but especially washing pans. I can't stand wet food, wet mashed potato makes me feel really ill!
D. Dogs: None. I have a fat cat though! He's got so big, he weighed 5.3 kgs (around 12lbs) at the vets last week!
(Ziggy with his legs tucked under him, he has cute black spots on the back of his front legs)
E. Essential start of your day: A shower. I can't open my eyes without a warm shower.
F. Favourite Colour: Red.
G. Gold or Silver: Silver, but I do also like rose gold.
H. Height: 5ft 5, I only know this because I had to measure myself for a graduation robe this week. I was surprised that I was that tall. I always felt I was short.
I. Instruments I play: Bass, guitar, clarinet (although I haven't played that for years) and most recently I've bought a ukulele and a stylophone that I'm learning to play. I also want a harmonica after seeing Ezra Furman & The Harpoons supporting Art Brut last week. It's some great 50′s style, American, harmonica, indie rock!
J. Job Title: Jobless bum, but my last job was as a research assistant.
K. Kids: None. I'm on the fence about the whole idea. 
L. Live: Yes, I am alive…and I live in Southampton, or Scumhampton as it is lovingly referred to.
M. Mum's name: Judy.
N. Nickname: I think everyone always calls me Gem. I do cringe when someone calls me Gemma, I'm not sure why, seeing as it is my name. It just doesn't feel like my name because no one ever calls me it.
O. Overnight Hospital Stay: None, except maybe when I was born.
P. Pet Peeve: People being mean for no reason. I try to be nice to everyone and I get very 'mother hen' if someone is horrible to someone.
Q. Quote from a movie: Evil Ed from Fright Night – "Oh, you're so COOL, Brewster!" This is one of my favourite movies and I loved Evil Ed. They are currently remaking it and I'm not sure how it's going to be, but it does have David Tennant in it as Peter Vincent the vampire killer. Fright Night was awesome due to the 80′s cheese, I can't wait to see how they remake it.
R. Right or left handed: Right.
S. Siblings: 3 older brothers and 3 older sisters.
T. Time you wake up: If we are talking natural rhythms then I wake around 11am, but it's not very often I get to wake at that time!
U. Underwear: M&S! I love M&S bras! Since they started stocking larger sizes I can now own more than 2 bras! Before I could only get bras from Figleaves, which tend to be quite pricey.
V. Vegetables you dislike: Most of them, but I do eat a lot of the veg that I do like. I can't stand broccoli and cauliflower, the texture makes me feel ill.
W. What makes you run late: The internet! The first thing I do before I've even opened my eyes is turn my PC on. Web comics are normally the culprit of my lateness. Favourites are: Questionable Content, xkcd, Saturday Morning Breakfast Cereal, Luke Surl, all mostly geek humour.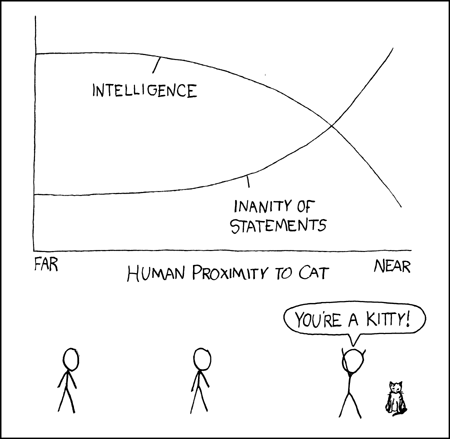 X. X-rays you've had done: I think only my teeth at the dentist and my legs. I was an annoying child that fell out of trees/off playgrounds/over own feet a lot. I only broke my leg once though, but I walked around on it for 2 days which resulted in a rather long time in a cast up to the top of my thigh. Going to the toilet was amusing!
Y. Yummy food you make: My OH does most of the cooking, but I make an awesome mince and tatties!
Z. Zoo animal: I haven't been to a zoo since primary school. From what I remember I loved the penguins because you could watch them swimming underwater.
I love reading these kinds of posts, so I tag you to do it if you haven't done it already :)
Kenzie from Bumblebee Tuna gave me a blog award! She's so lovely and she has a wonderful Etsy shop with lots of hand made jewelery! She also has a giveaway running at the moment if you want to check that out :) Thank you for the blog award Kenzie!
♥ You must link 10 blogs
♥ Tell them about the award
♥ Write 10 facts about yourself
Christina over at Christina Marie says… tagged anyone in a Christmas mood to do this tag! Now I'm tagging you! :)
1. What's Your Favourite Holiday Movie?
The Nightmare Before Christmas is my favourite Christmas themed movie! I love Tim Burton, the style, the music and Mr. Oogie Boogie! But, every Christmas since I was little, Charlie and Chocolate Factory has been on. It's the film that I always look for at Christmas time!
2. What's Your Favourite Christmas Colour?
Red! It is my favourite colour anyway, but at Christmas it feels more festive. I dug out my red santa christmas slipper socks from last year!
3. Do You Like To Stay in Your PJ's Or Dress Up For Christmas?
PJ's for opening presents because I don't want to have to wait to shower and get dressed when there are pressies to be opened! :P I get dressed up for Christmas day afterwards, normally in any clothing I've received as a present :)
4. If You Could Only Buy One Person a Present This Year Who Would It Be?
It would have to be my mum, I always make sure that I send her some pressies as I don't see her at Christmas due to distance. I still wrap her presents with fancy paper, ribbons and stuff and send them up in a big box.
5. Do You Open Your Presents Christmas Eve Or Christmas Morning?
Christmas morning! It would feel weird to get up and have everything open already.
6. Have You Ever Built a Ginger Bread House?
Nope, and I feel that I'm missing out! Maybe I should go to a supermarket and buy loads of gingerbread men and try to build a house out of them…that sounds kinda creepy when I read that back to myself. :S
7. What Do You Like To Do On Your Christmas Break?
Ideally just play computer games and chill out, watch some TV. Alas, I have work to do this holiday, but I'm sure I'll find time to watch all the Christmas films I've got recorded in my Sky+!
8. Any Christmas Wishes?
Just that everyone has a lovely Christmas and New Year!
9. Favourite Christmas Smell?
Mandarin clove and cinnamon candles. I always have these from M&S at Christmas. I love red and just picked them up last Christmas and I bought some more this year, they smell gorgeous!
10. Favourite Christmas Meal Or Treat?
Christmas dinner! I have cooked our Christmas dinner for the past 4 years and I enjoy doing it. I cook so much it barely fits on the plate! I do have a lot of help from M&S though. It's so easy to cook their Christmas food because it is all ready sorted in a foil tray to be thrown in the oven. Cheating I know, but tasty! :P
Have a wonderful Christmas everyone! I hope you are all relaxed and ready for a lovely day tomorrow! :)
Christina over at Christina Marie says… has awarded me my first blogger award! Thank you Christina! It was very sweet of you, it's a shame I can't nominate you back, I love reading your blog :)
With this award comes some RULES:
- Say thank you and link back to the blogger who gave you the award.
- Share seven things about yourself with your followers.
- Pass this award along to seven blogs you've recently discovered and enjoy.
My 7 things
1 I found out about beauty/nail blogging from Norman Lovett (yes, the comedian who played Holly in Red Dwarf).
Now stick with me it makes sense in the end. :P I love Norman Lovett and he was doing stand up at my uni. I went along and he was awesome and I even got a signed DVD :P Anyway, after seeing him I googled his website and found videos on there of his past work, including a whole series of a TV show called Asylum. Asylum was written by David Walliams and Edgar Wright and starred Simon Pegg and other famous comedians who were just starting out. The show had a house band called David Devant & His Spirit Wife. As soon as I heard the intro music I thought 'This is my kind of music!' I googled DDAHSW and found very little really as they never reached the fame they deserved. I found a lovely post about them on a blog (Funny Face's Place) and some videos and then realised that the majority of the blog was beauty related. I liked to read all the posts and the rest as you say is history! From seeing Norman Lovett I have gained a new hobby and spoken to lots of lovely people and found out about a band who I now adore. So a big thanks to Norman Lovett! :)
2 I finally feel on track again.
I originally started a computing degree at a different university and met lots of awesome friends, but it was an awful course. I should have left after the first year, but I liked my friends so stuck around. When I started my second year I realised I'd had enough and was pretty fed up. My OH's sister spotted a web developer job in the paper and I applied and got it, left uni and learnt so much in industry that I wasn't learning at uni. Alas, it was only a temp job so after 6 months I was at a loss for what to do. I had prevously wanted to do a psychology degree, but decided against it as 'I could get a better career with computing'. I decided to apply to do psychology a year later anyway, as I just wanted to do something I enjoyed rather than something I thought I might get a job from. Now I love it! I thought I was doomed, but I'm now in my final year of my degree and applying to stay on as a postgraduate student.
3 I have a crazy cat.
My cat is a total scaredy cat and he has such an easy life. He hates to be stroked unless it is on the top of the stairs where he has a dressing gown that he likes to snuggle on. He is really stroppy, if we go away for the day and have someone stay in our house or look in on him he won't come out from under bed! I've been told by some friend who have had lots of cat experience that he is stroppy because he is half Siamese. Aparently they can be quite strange and they are socailable but on their own terms, which describes my cat quite well. He is weird, but I love him! :)
4 I am a tomboy who is quite girly.
I am girly in the sense I like make-up, but I like things that would be considered male based interests, such as sci-fi and computers.
5 I love to listen to music.
I listen to a lot of music, I am hardly ever without it. I have two different sets of music I listen too: I have my usual indie/brit pop/ska/punk music consisting of bands like Art Brut, DDAHSW, Interpol, The Cure, The Coral, Larrikin Love, Stiff Little Fingers and things like that. Then I have the heavier nu metal/rock with bands like Soundgarden, Disturbed, A Perfect Circle. I do listen to a mixture of other music as well, but I always go back to these two sets as they make me happiest! :)
6 I love sci-fi!
I watch a ridiculous amount of sci-fi: Star Trek, Doctor Who, Torchwood, X-Files, Babylon 5, Futurama etc. I have lots of DVDs and only realised lately when I had friends over that if you don't like sci-fi you can't really pick a DVD to watch in my house. It's ok there are many near by pubs to rescue such awkward social situations! :S
7 My current obsession is Twin Peaks.
I know I am very late on this. It was a series that started in 1990 and was a bit quirky and went cult. I has always wanted to see it and when I saw the series was being run on the horror channel I Sky+'d it. I've watched the first season and I love it. The story, the characters, the music, all awesome! My OH even bought me the music from the series for Christmas. If you like quirky cult classics, this is one to watch. I have season 2 and the prologue/epilogue movie in the post. It was meant to arrive on the 16th, but the post is late with snow/Christmas, the suspense is killing me! I hope it arrive soon!
The Versatile Blogger Award
Some these blogs I am nominating I have followed for quite awhile and some are quite new. I went through my rather large blogroll and picked some favourites. :)
1 Jenni is lovely and has a mostly nail polish based blog. She reviews polishes is a lovely funny way and I always enjoy reading her posts and comments.
2 Karen has a lovely nail blog also. However, because she is in the US I am extremly jealous of all the lovely polishes she finds over there! I love to read her thought on them and her army of snowmen!
3 Louise has a beauty/craft blog. She has such an awesome personality, I love to watch her Youtube videos, she is so funny! I am often sat at home alone laughing away to myself watching them. She is also quite creative and has tutorials on how to make things and she sometimes sells things she has made. I bought a lovely ring from her.
4 Lillian's blog is the reason I found out all about this crazy world of blogging. She has just a cute style and always looks amazing and she loves DDAHSW!
5 Emma has a lovely blog and beautiful hair! I am very jealous! She has lots of reviews, different looks and outfits and videos. I always look forward to her posts and she has great music taste and often posts a music video at the end of her posts, reminding me of awesome songs I haven't listened to in ages :)
6 Chloe's Nails is a blog I only started following recently after seeing a link to a tutorial she had made on how to use tape to make patchwork nails. It was really good and she uses tape to make such awesome looking manis! I normally end up with polish covered tape stuck everywhere, even in my hair…not good! Chloe's nails are lovely though and they look really professional, it's hard to believe it was accomplished with tape!
7 Caz has a great beauty blog and she reviews lots of different make up. Her reviews often cause me to destroy my bank account!  She also has some really funky themed eye shadow days that look great!
Thanks again Christina for nominating me, I enjoy reading these little tag things. Hope everyone is having a lovely Christmas so far! xxxx
I received Models Own – Blue Moon from Jenni a little while ago. Jen had a swatch of it ages ago and I fell in love with it, so I was excited to try it.
It applies in a very similar way to Models Own Champagne, it's the same kind of shimmer, but blue not gold. It's a one coater, I didn't want to risk a second coat as I know Champagne bubbled quite badly, but it doesn't really need a second coat anyway. I love the shimmery blue!
I cut my nails down as I was starting to make too many typos. My fingers look all short and stubby now! :S
4 things in my bag
Wallet, I've had the same wallet since I was 12ish, but I love it and it's leopard print!
Phone.
Keys.
Usb stick with all my work on it, to loose this = diaster!
4 things in wallet
Lots of cards, mostly rubbish. I still have an old M&S staff card and an MVC card.
Money.
Photos of my other half/pets.
Lots of paper i.e. receipts/bus tickets/movie stubs.
4 fave things in my room
My kitty, happily asleep under the bed, until my foot dangles over!
My comfy bed.
DVD's.
My growing box of nail polish.
4 things I've wanted to do
Finish my degree, preferably with a good grade!
Live in London or at least nearby so I can visit more often.
Go abroad, I've been to Scotland, but I'm told it doesn't count.
Get a permanant job I enjoy doing, more of what I'm doing at the moment would be fab!
4 things I'm currently into
Indie music.
Art.
Nail polish.
Gaming, just recived an invite to World of Warcraft Cataclysm Beta, I know I quit, but it is rude to turn down an invite!
4 songs I can't get out of my head
Everybody Was In The French Resistance…Now! – He's a "Rebel"
Maximo Park – Once, A Glimpse
The Coral – Dreaming Of You
Idlewild – Roseability
4 things you may not know 'bout me
I've been to sci-fi conventions and I enjoyed it!
I used to work in web development before I decided to do psychology as it seemed less stressful and more interesting.
I'm serious when I'm joking and joking when I'm serious.
I could sit and watch Diagnosis Murder all day, I don't care if it is silly, that's what makes it awesome.
I'm meant to tag 4 people, but I don't have many followers and a lot of people have done this already. :) However if you have not  done this and would like too, I challenge you to a race around the…I mean, I tag you!